Ghosting: when someone straight up disappears after you've been in seemingly promising contact with them. I think we've all been guilty of ghosting and, probably more frequently, been victims of it (or, as I like to call it, ghostees). The latter is not super fun, but fret not—at this point I'm pretty much an expert ghostee—like, it's basically what I do for a living. On my resume, "ghostee" is listed as every job I've ever had. Being ditched without explanation is my main hobby, my special skill, my everything—so I'm well-equipped to tell you how to deal with it.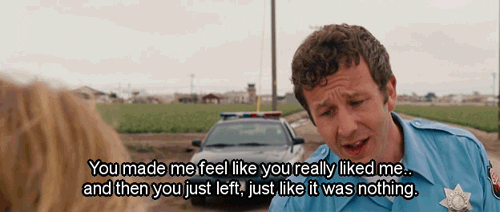 First, sign them up for Scientology
Take the personality test on their behalf, use all of their personal contact info, set them up for an in-person introductory meeting and everything. They thought they could get away with flaking and never having to talk to you again? Well they have another thing coming, because Scientology is the Herpes of "religions"—once you have contact, it never goes away. It follows up with you at unexpected times, you try but you can't shake it, and you're ashamed to tell anyone about it. Once in the Scientology database, always in the Scientology database.
Then threaten to kill their mother
Just to make sure they know who has the power in this situation.
Remind yourself it's them, not you
You're a perfect unicorn, obviously. So clearly you did nothing to provoke the ghosting. Except maybe be too perfect. Perfection is intimidating to those who are imperfect, you know.
Report them to the FBI for a bomb threat
Topical.
Troll their social media
Just because they want nothing to do with you doesn't mean you don't have a right to know what/who they're doing every minute of every day.
Eat emotionally
Never fails. To make you feel even worse about yourself.
Remind them that you're not going anywhere
Put a reminder in your calendar to send them a weekly text. E.g.:
•"I'm as dedicated to sticking around as the ring in my toilet, motherfucker."
-or-
• "I know where you live and am familiar with the permit parking regulations on your block so I am adequately prepared to come for you."
-or-
• "Hey! Hope all is well… Haven't heard from you in 47 weeks, so I'm optimistic that you've died, but just wanted to check in to be sure."
Settle for someone who won't ghost you
Yes, the only guy who persistently asks you out is basically a leper, but at least he'll never leave you. There's something to be said for stalkers loyalty.
Featured on News Cult: http://newscult.com/what-to-do-when-someone-ghosts-you/