Our mood is perpetually bad. We hate everything, and with good reason. But, we're stuck here, so we may as well try not to be miserable 24/7. Enter: mood boosting. A technique we use to delude ourselves into feeling a little less bad for a little while. Here's how to do it.
Sleep
I find that sleep is the solution to every problem. Got too much to do? Sleep. Sick? Sleep. You're unlovable? Sleep. Throw. in. the. to. wel. You'll be less cranky the more you sleep. Mostly because you'll have to spend less minutes in the day facing the sad pathetic reality that is your life and the terrible people who surround you. #here'stobeingunconscious
Change up your routine
You know what puts you in a bad mood? The same old bullshit drudgery of the day-to-day. So do something different. I don't care if that means buying a different scent of deodorant ("powder" is only "fresh" for so long you feel me?), taking off on an unplanned road trip in the middle of your workday, or telling your company's receptionist to blow you—just give yourself a jolt of newness. Something to upset the status quo and pointlessness that you live alldayeveryday.
Take a bath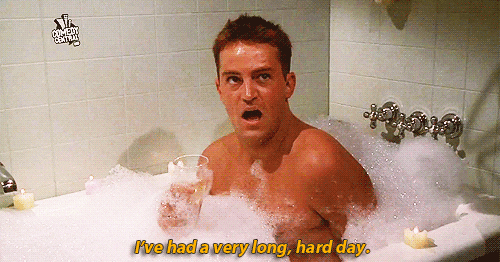 Baths are such refuge—a place to escape physical & mental distress. Baths are like safe zones, where nothing exists—everything just vanishes and you become weightless. It's really too bad you ever have to get out. I hate to make the womb reference, but I'm gonna go there—we can fuck with the womb. It's when we leave it that everything goes south. #it'salldownhillfromthere #oruphill? #becausedownhilliseasy #uphilliswhattakeseffort #eventhoughupisgenerallythedirectionassociatedwithpositivity #butlikeforrealcansomebodyclarifythatsaying
Listen to music, watch TV or a movie
Good music is king. Or watch a funny TV show. Live in someone else's world for a while. #areyounoticingapattern #ifyou'renotgoingtoletusdoheroinwe'regoingtoneedothermeansofescape
….. Exercise?
I mean…. because.. science? Ugh it's so hard to try to act like I believe in exercise. Frankly I don't care if it produces good end results. Like, the journey isn't worth it for real. Fuck endorphins, man, all you need is Skittles and chocolate milk.
Do something just purely for fun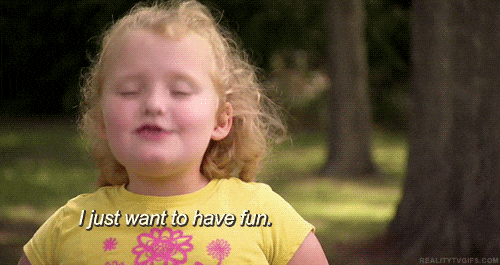 Do something that's not stressful, but just plain hedonistic. Whether that's riding a roller coaster, coloring with your BAMF metallic colored pencils, playing Cards Against Humanity, having not-terrible sex (#istheresuchathing), eating something delicious, skydiving, looking at pictures of tween Drake for 3 hours, starting a Twitter war with Deborah Messing, or reading Hillary Clinton's emails, just revel in it.
Medication
I'm not a pill-pusher, but life is hard enough—add to that serious mood swings or depression, and then it's just like BYE. If medication actually helps you, go for it. Plus, you'll become BFFs with your pharmacist—NO ONE will experience your ups and downs quite like him. #andnoonewillknowhowmanyyeastinfectionsyougetquitelikehim #that'struefriendship
Volunteer
Doing good makes you feel good. Also being around those less fortunate than you snaps you out of your privileged malaise. Or, if you want to do bourg-y volunteering, then hang with some puppies. If puppies don't boost your mood then you should probably just kill yourself.
Go outside
Get some fresh air, or, if you're in a place like LA, inhale the disgustingly polluted and toxic smog that surrounds you! Rain or shine, just soak it in, take some deep breaths, and remember that you can always leave wherever or whatever is putting you in a bad mood and get back to nature. That is, until climate change destroys it, the sun explodes and engulfs us, and we all burn to a crisp.
Featured on News Cult: http://newscult.com/9-things-will-really-boost-mood/